How to Lift and Move Caissons?
Comparing with traditional way of using logs for transportation as Egyptians do, heavy lifting airbags for lifting and moving heavy structures is considered to be an novel and easier method. Heavy lifting airbags have low reaction force and flexible structure for easier handling and storage.
Here are the details about how to move caissons using airbags:
Preparation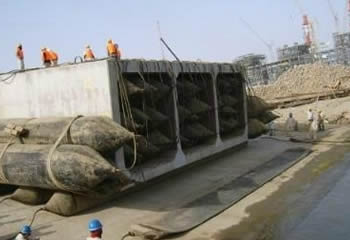 Marine airbags are ideal for lifting & moving caissons and various heavy structures.
Before caisson fabrication, rooms for heavy lifting airbags should be left for easier installation by following two methods:
Making lifting troughs:
Making lifting troughs which are stuffed with compacted sands when people fabricate the bottom membrane of caissons.
Using high pressure water to wash the compacted sands away.
Place heavy lifting airbags in the troughs.
Inflate the heavy lifting airbags to appropriate pressure until the caisson is lifted.
Insert some airbags for transportation and pump air into them.
Deflate and remove the heavy lifting airbags.
Fill the trough again with blocks or sands.
Using blocks:
Making block foundation before the fabrication of caissons is much simpler than above method.
Place concrete blocks or H type girders in height of 30cm to 50 cm and make sure that their space is no less than 2 meters.
Fill the space between blocks using wet sands.
Caisson fabrication on this block foundation.
Using high pressure water to flush the sands away.
Place heavy lifting airbags between the blocks and inflate them to appropriate pressure.
Remove the beams of blocks.
Move caisson with airbags
Make sure that the working height of inflated airbags is about 40cm to 50 cm for safety operation pressure.
Move caissons with the help of two winches for providing pull and hold power in a great coordinate manner.
Once the caissons are transported to designated position, use blocks to replace the airbags and support the caisson.
Deflate and store airbags.
Inquiry for Our Product
When you contact us, please provide your detail requirements.
That will help us give you a valid quotation.